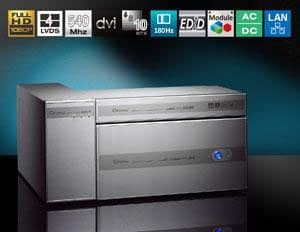 The technology development of liquid display has been moving toward the features of large scale, high quality, high contrast and fast dynamic response that made the Full HD (1920X1080) high resolution specification become the new mainstream in the market. In order to meet the test requirements of today' s industries, the Chroma 2917 LCM ATS is structured in modules with integrated signals and power sources. The powerful on-line network function and easy-to-use interfaces are equipped to fulfil the test requirements such as all kinds of standard signal sources, test patterns and voltage/current measurements for various sizes of LCM.
The Chroma 2917 LCM ATS integrates the signal source/power source for LCM patterns and electricity specification tests. The user-friendly interface along with simple system programs can be used to edit the Timing / Pattern / Power / Program while the mouse or keypad can be used to log the LCM defects. Moreover, the PC based platform can fully utilize the network function for data collection and analysis that makes it applicable for production line management.
The system administrator is able to perform the test program maintenance and management, hardware configuration, data upload/download, computing and EDID read/write network on-line functions via the network interfaces for production status control as well as analysis of production, efficiency and yield rate.