Typhoon HIL
Typhoon HIL Inc. is our valued partner and the market and technology leader in the rapidly-growing field of ultra-high-fidelity controller-Hardware-in-the-Loop (C-HIL) simulation for power electronics, microgrids, and distribution networks. Their cutting-edge solutions have revolutionized the industry and continue to set new standards in performance, ease of use, and affordability.
With a strong emphasis on customer satisfaction, Typhoon HIL provides industry-proven, vertically integrated test solutions accompanied by exceptional customer support. Since their establishment in 2008, they have consistently developed products that stand out for their ultimate ease of use, unrivalled performance, leading-edge technology, and competitive pricing.
Typhoon HIL tools are meticulously designed from the ground up to offer a unique user experience that eliminates third-party software and hardware complexities. This streamlined approach delivers significant benefits to users, including simplified installation of libraries, lightning-fast model compilation, high-resolution digital input sampling (as low as 3.5 ns), and real-time simulation capabilities with a time step as low as 200 ns on their latest generation products.
At Typhoon HIL, they firmly believe in the principle of "less is more" when it comes to test equipment that their customers love. Their seamlessly integrated technology stack encompasses Typhoon HIL's application-specific processors, ultra-robust numerical solver, Schematic Editor, SCADA system, and TyphoonTest testing automation. This comprehensive stack empowers users to consistently exceed their goals for controller software quality, performance, and time-to-market.
As our partner, Typhoon HIL demonstrates a strong commitment to innovation, customer satisfaction, and industry leadership. By aligning with Typhoon HIL, we are proud to offer our customers access to state-of-the-art C-HIL simulation solutions that deliver unmatched performance and reliability. Together, we enable our customers to stay ahead of the curve, meet their evolving needs, and achieve their business objectives.
---
HIL Built for Electric Vehicles and e-Mobility
Typhoon HIL's Hardware-in-the-Loop (HIL) solution was tailor-built for the design and testing of power electronics controllers for Electric Vehicles (EV), e-Mobility, and power converters. HIL solutions for EV drivetrains, electric vehicle stationary equipment (EVSE) such as fast DC chargers, on-board vehicle chargers, DC/DC converters, hybrid drivetrains, batteries, and fuel cells. All applications of e-Mobility, for thingies that drive, swim and fly. Unleash the Typhoon HIL Advantage to test, design, verify and validate (V&V) your automotive control software.
In addition, Typhoon's signal-level HIL solution seamlessly supports ASAM XIL standard for the communication between test automation tools and our HIL simulators. This enables their HIL to be plug-and-play with 3rd party test automation software and system level HIL test benches.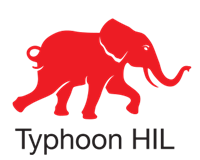 Ready to get started?
Contact us for a free quote today.