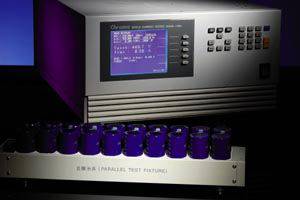 The Chroma 11800 / 11801 / 11810 Ripple Current Tester is a precision tester designed for electrolytic capacitors load life testing.
It provides a constant ripple current output and constant peak voltage (Vpeak = Vdc + Vac_peak) output, digital control function.
Load life testing for electrolytic capacitors becomes easier and more reliable and the Chroma 11800/11801 uses an excellent output amplifier design technology to reduce power consumption and internal temperature rises. The 11800/11801 is the perfect test solution for electrolytic capacitor quality evaluation.
For long term testing requirements, it can reduce electricity costs and perform high stability tests.