Tektronix
Tektronix Inc., headquartered in Beaverton, Oregon, delivers innovative, precise and easy-to-operate test, measurement and monitoring solutions that solve problems, unlock insights and drive discovery globally. MDL Technologies can advise and support on the full portfolio of Tektronix and Keithley test and measurement solutions.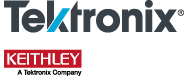 Ready to get started?
Contact us for a free quote today.