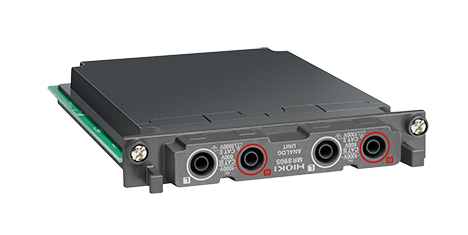 The Hioki MR8905 input module features direct high –voltage input of up to 1000 V DC and 700 V AC without using a differential probe.
This is ideal for primary and secondary measurements of UPS power supplies and commercial power supply transformers, for recording the primary and secondary waveforms of inverters, and for measuring high-voltage power supply lines, such as 380 V and 480 V systems used in many countries.
Basic specifications (Accuracy guaranteed for 1 year, Post-adjustment accuracy guaranteed for 1 year)
Functions
No. of channels: 2, switchable between instantaneous value and AC RMS value
Input connectors
Banana connector (input impedance 4 MΩ, input capacitance less than 1 pF)
Max. rated voltage to earth: CAT II 1000 V AC & DC, CAT III 600 V AC & DC (with input isolated from the main unit, the max. voltage that can be applied between input channel and chassis and between input channels without damage)
Measurement range
500 mV to 50 V/div, 7 ranges, full scale: 20 div
*The maximum displayable AC voltage is 700 Vrms when using 1/2 compression of the vertical axis.
Low-pass filter
5/50/500/5 kHz, OFF
Resolution
1/1250 of measurement range (using 16-bit A/D converter)
Highest sampling rate
500 kS/s (simultaneous sampling across 2 channels)
Accuracy
±0.5% f.s. (with 5 Hz filter ON)
RMS measurement
RMS accuracy: ±1.5% f.s. (30 Hz up to but not including 1 kHz, sine wave input) or ±3% f.s. (1 kHz up to 10 kHz, sine wave input)
Response time: 300 ms (filter off, rising from 0% to 90% f.s.) or 600 ms (filter off, falling from 100% to 10% f.s.)
Crest factor 2
Frequency characteristics
DC to 100 kHz -3 dB
Input coupling
DC/AC-RMS/GND
Max. allowable input
1000 V DC, 700 V AC (the max. voltage that can be applied across input pins without damage)
Dimensions and mass
119.5 mm (4.70 in)W × 18.8 mm (0.74 in)H × 151.5mm (5.96 in)D, 185 g (6.5 oz)
Accessories
None
Model No. (Order Code)
Note: This module must be used with the Memory HiCorder. Compatible with MR8875 firmware version 2.14/3.14 or later.