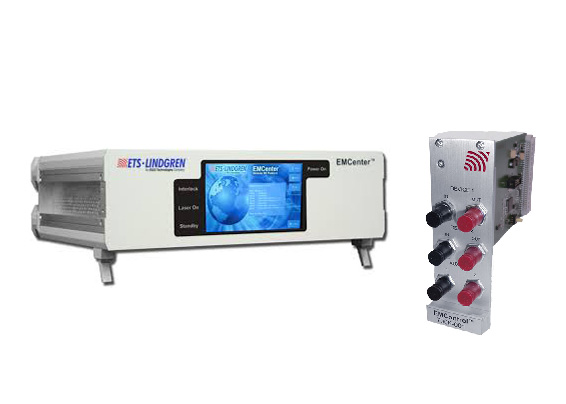 ETS-LINDGREN'S EMCenter is a flexible platform consisting of an integrated micro-controller, modular chassis, and a selection of optional plug-in card modules. It can be used to perform a variety of RF measurement applications.
The EMCenter's compact footprint reduces system complexity and provides centralized control and accessibility. The EMCenter's 3U, 19-inch form factor can accept up to seven optional instrument card modules. Each individual card module is a miniaturized instrument that has been optimized for RF measurement. Card modules are easily inserted into the chassis' rear card bay, and are recognized when the system initializes. Multiple EMCenters can be linked together to form scalable systems.
EMCenters can be manually controlled through a series of menus accessed on the front panel TFT touch screen. The platform's embedded Linux-based software is stored in flash memory to simply version upgrades.
For automated testing, EMCenter can be controlled with TILE!™, EMQuest™ and other PC compatible RF software packages. Using RS-232, LAN, USB and IEEE-488 protocols, the software can control external receivers, amplifiers, power meters, antennas, and other equipment in the test loop.
Typical EMCenter applications include EMC and wireless measurements, E-field monitoring, and other RF applications.
Standard Configuration
EMCenter Modular Test Platform
RS-232 Cable
USB Cable
Interlock Plug
19" Mounting Brackets
Power Cable