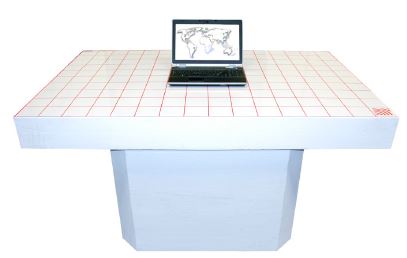 Product Overview
ETS-LINDGREN'S LOW DIELECTRIC TABLE (LDT) is a lightweight, portable test table, constructed with materials selected for their low dielectric property. The LDT's construction material for the EUT's support surface has a dielectric constant of < 3.0, while the table's support structure has a dielectric constant of < 1.03.
The result is a table having virtually no influence on radiated emissions measurements, especially above 1 GHz where frequencies are affected most. For ease of use and accurate EUT positioning, an EUT placement grid is integrated onto the test table top.
The LDT is available in two sizes; 1.2 m x 1.0 (Model LDT-1.2) and 1.5 m x 1.0 m (Model LDT-1.5). Both test tables have a load capacity of 100 kg (220 lbs). Custom sizes are available; please contact ETS-Lindgren for details.
Both LDT models are designed to be used with a 1.2 m diameter or larger turntable.
Physical Specifications
Model
Length
Width
Height
Load Capacity
LDT-1.2
120.0 cm
47.2 in
100.0 cm
39.4 in
80.0 cm
31.5 in
100.0 kg
220.0 lb
LDT-1.5
150.0 cm
59.1 in
100.0 cm
39.4 in
80.0 cm
31.5 in
100.0 kg
220.0 lb