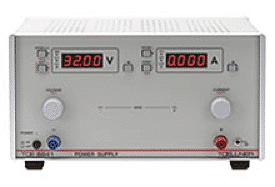 Single-output and dual-output power supplies up to 160 W
TOE 8841 to TOE 8842, In-phase regulation
A proven concept
has been used for the new, system compatible single-output and dual-output power supplies of the TOE 8840 and TOE 8850 series.
Exceptional specifications are achieved with a total output power of 160 W or 320 W, as a result of the classical in-phase control principle.
A total of 22 different models deliver voltages up to 130 V and currents up to 20 A. With a resolution of 12 bits in the voltage and current ranges, a simple and convenient user interface, and the excellent specifications, these instruments are suitable for both manual and bus based modes.
Integrated measurements
A further significant characteristic is the high-resolution measurement of the voltage and current values; these are output on 4-digit LED displays and can be read at a high rate in bus mode.
This means that additional measuring instruments are usually superfluous.
Adjustment using incremental spinwheels
The output values are adjusted with a selectable sensitivity using wear-free incremental spinwheels, thus permitting reliable and precise adjustment of the output voltage and current even after many years of service.
Remote control (option)
All instruments can be remote-controlled in analogue mode as well as via GPIB and RS 232 interfaces using the SCPI command set (SCPI: Standard Commands for Programmable Instruments). The system interfaces are characterized by a high response and measuring rate. In addition, instrument driver software is available under "LabView".
Automatic calibration
Fast and convenient calibration of all output parameters is possible externally within a few minutes without any adjustment of trimmers or interventions in the instrument. This "software calibration" can be carried out simply using the control elements or supported by a computer within a test system. The "software calibration" provides an advantage which should not be underestimated when considering the regular calibration intervals which are becoming increasingly important in quality assurance systems.

Voltage or current source
Depending on the values set for the voltage and current, each power supply can be operated as a voltage source or a current source depending on the load conditions. All outputs can be connected in parallel or series without problem.
High performance and exemplary operating characteristics