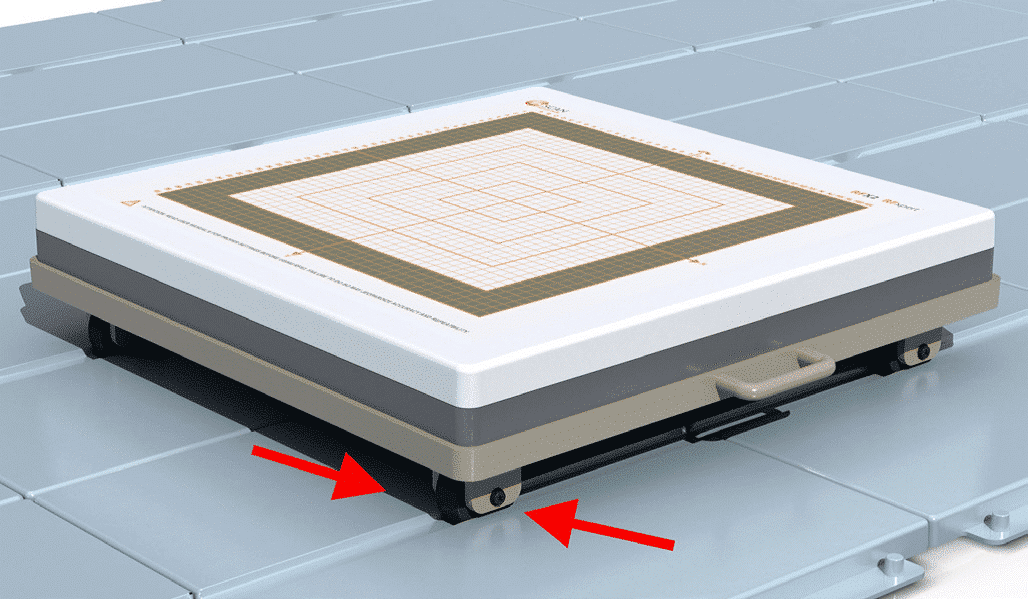 Get Accurate Far-Field Results with an MCP Jig for Large Antennas
Multi-Co-Planar Scan (MCP) function which is available only with the RFX2 enables power and pattern measurements at a single frequency or series of frequencies of antennas that are too large to measure with a single RFX2 scanner.
The MCP Jig is designed to ensure accurate antenna pattern measurements for antennas larger than L 32 cm x W 32 cm (L 12.60″ x W 12.60″). With this function, the RFX2 can test antennas as large as are L 2.32 m x W 2.32 m (L 7.61′ x W 7.61′).
For accurate far-field results, the distance between the antenna array and the RFX2 must be constant and each measurement must be made in 40 cm (15.75″) increments. A recommended approach is to suspend the antenna above the RFX2 and move the RFX2 on the MCP Jig.
Basic MCP Jig is designed for DUTs with maximum dimensions: L 1.12 m x W 0.78 m (L 3.67′ x W 2.56′). It is composed of 6 tiles, 6 absorber blocks and one rolling rig.
The rolling rig has wheels that allow the accurate movement and positioning of the RFX2 on tiles. Tiles have built-in tracks and positioning holes for the rolling rig which serves as a guide to move the RFX2 precisely to the next subsequent position in 40 cm (15.75″) increments. The rolling jig has to be lifted up and placed on the next set of tracks for testing along another row of tiles