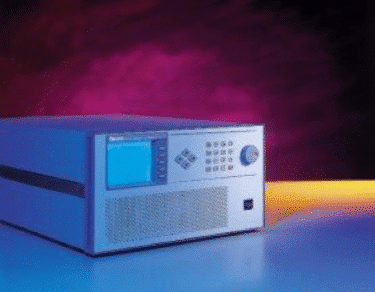 The global AC power testing requirements demand a sophisticated AC Power Source that is capable of simulating a wide variety of AC line conditions, harmonic waveforms, accurate power measurement and analysis. The Chroma 6500 series Programmable AC Power Source / Supply delivers the right solution to simulate all kinds of normal/abnormal input conditions and measures the critical characteristics of the product under test. It can be used for R&D design characterization, production testing, and QA verification of commercial, industrial, and aerospace electronic products.
The Chroma 6500 series power supplies deliver maximum rated power for any output voltage up to 300 Vac, and at any frequency between 15Hz to 2000Hz. It is suitable for commercial applications (47-63Hz); for avionics, marine, military applications at 400Hz or higher frequency; or for electrical motor, air-conditioner test applications at 20Hz. All models generate very clean sine or square waveforms output with typical distortion less than 0.5%.
The Chroma 6500 series has a built-in Direct Digital Synthesis (DDS) Waveform Generator to provide user programmable high precision waveforms.