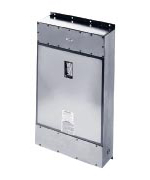 ETS-Lindgren's LRE Series Multiple Circuit Filters are designed for moderate filtering requirements. These filters are typically used on mid-performance modular shielded rooms, screen rooms, or foil-lined rooms.
LRE filters are designed for two to four wire applications. Like all ETS-Lindgren power line Filters, LRE filters are designed and manufactured to meet or exceed UL-1283 and/or MIL-f-15733, though none of these are UL Listed.
Optional mounting penetration hardware is available that allows for direct installation through a shielded wall.
Power factor correction coils are recommended for 400 Hz filters 30A or higher.