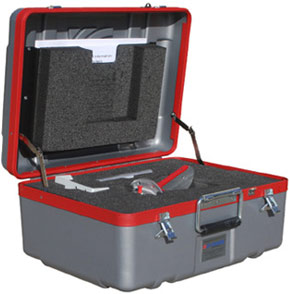 ETS-Lindgren's Rugged Product Cases provide a safe way to store and ship delicate equipment. Designed for multiple transportation cycles, these cases are uniquely designed to have uniform wall strength and thick, reinforced corners. Additionally, these cases are moisture and chemical resistant, allowing for safe and secure transport of sensitive electronics.
These cases provide a convenient way to secure equipment for shipping or storage. Their rugged construction means no additional internal or external packaging is necessary, when used for the model of equipment in which they were designed for.
Rugged Polyethylene Construction
The vacuum-formed polyethylene construction of these cases provides a protective environment that is durable for years of rugged use.
Moisture and Chemical Resistant
These cases provide a tight, secure latched seal which serves as a barrier to external moisture. The exterior of the cases is made of a material that offers protection from moisture and most chemicals.
Cushioned Foam Interior
Each case has a dense foam interior that is custom cut to the dimensions of a specific antenna, probe, or other piece of test equipment. Equipment fits snugly and is held securely during transit or storage.