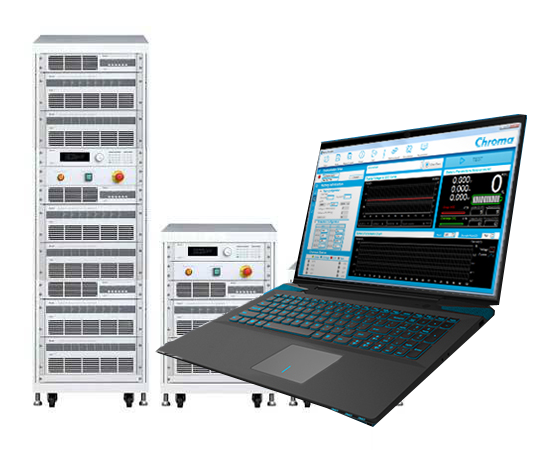 The Chroma 17020 System is a high precision integrated solution specifically designed for secondary battery module and pack tests. Accurate source and measurement ensure the test quality that is suitable for performing exact, reliable testing crucial for battery module / pack incoming or outgoing inspection as well as capacity, performance, production and qualifi­cation testing.
The Chroma 17020 System architecture offers a regenerative discharge energy design to recycle the electric energy sourced by the battery module / pack to channels in the system, performing a charging function or back to the utility mains in the most energy efficient manner. This feature saves electricity, reduces the facilities thermal footprint and provides a green solution by reducing the environmental impact on our planet.
The Chroma 17020 System is equipped with multiple independent channels to support dedicated charge / discharge tests on multiple battery modules / packs each with discrete test characteristics. Channels may be easily paralleled to support higher current requirements. This feature provides the ultimate flexibility between high channel count and high current testing.
Advanced driving hardware can create seamless transitions between a maximum charge to maximum discharge (or maximum discharge to maximum charge) with a rapid 10mS conversion. This feature allows for charge/discharge modes simulating real world scenarios.