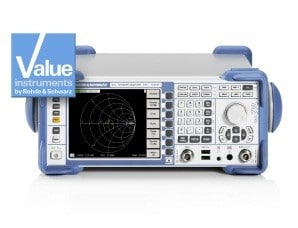 Product Overview
The R&S ZVL is a compact, powerful, and future-proof vector network analyzer, and is therefore ideal for use in development, production, and service.
It is the only instrument to combine the functions of a network analyzer, spectrum analyzer, and power meter in a single box, and will thus tremendously increase your work efficiency.
The R&S ZVL is ideal for lab applications where the measurement tasks vary frequently; it can be used to measure S-parameters as well as the output spectrum, ACP, and TOI without having to reconnect the device under test (DUT).
With the R&S ZVL, production lines can now be run even more flexibly, as the switchover from network analyzer to spectrum analyzer can easily be effected via remote control. Moreover, an NRP-Z power sensor, which can be directly connected to the R&S ZVL, ensures precise power measurements.
Model Selection
| | |
| --- | --- |
| Vector Network Analyzer, 3 GHz | R&S ZVL3 |
| Vector Network Analyzer, 6 GHz | R&S ZVL6 |
| Vector Network Analyzer, 3 GHz, 75 ? | R&S ZVL3-75 |