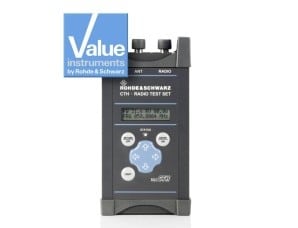 Product Overview
The R&S CTH allows dependable testing of analog FM radio systems even under challenging environmental conditions. The radio test set was designed especially for outdoor use.
Ensuring the smooth functioning of transceivers is the key to successful communications. The R&S CTH100A/ R&S CTH200A performs this type of work without requiring expert knowledge. The user can simply connect the device under test (DUT) to the R&S CTH100A/R&S CTH200A and immediately begin transmitter and receiver measurements.
The R&S CTH100A/R&S CTH200A includes all the measurement functions needed for reliable testing of transceivers. The measurement results are clearly presented on a display that is optimized for outdoor use so the measured values are easily readable even under difficult lighting conditions.
With its high measurement accuracy and straightforward operation, the R&S CTH100A/R&S CTH200A delivers unrivalled performance and functionality for its class.