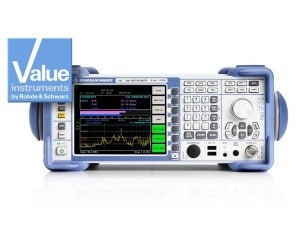 Product Overview
The R&S ESL EMI test receiver combines two instruments in one, measuring EMC disturbances in accordance with the latest standards and also serving as a full-featured spectrum analyzer for diverse lab applications.
The R&S ESL is a compact, cost-effective measuring receiver. It includes all of the functions, bandwidths and weighting detectors that are needed to make EMC measurements in accordance with commercial standards.
The receiver provides useful support to manufacturers of components, modules and devices who need to detect disturbances at the early stages of product development. They can thus take any required actions and avoid the expense of having to redevelop completed products. This also saves time and money during the certification process.
The combination of very good RF characteristics and all of the important functions needed for fast, precise measurement and evaluation of the EMC of a device under test in accordance with commercial standards is unmatched in this class of instrument. The diverse analysis capabilities, high measurement speed and time-saving automated test routines make the R&S ESL the obvious choice for any development lab that needs to prepare for EMC certification tests.
Model Selection
| | |
| --- | --- |
| Test Receiver 9 kHz to 3 GHz | R&S ESL3 |
| Test Receiver 9 kHz to 6 GHz | R&S ESL6 |