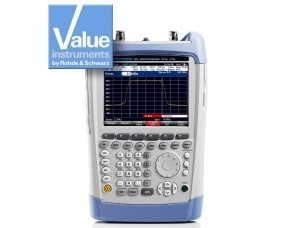 Product Overview
Frequency Range: 9 kHz – 3.6 GHz or 8 GHz
The R&S FSH4/FSH8/FSH13/FSH20, handheld spectrum analyzer is rugged, handy and designed for use in the field. Its low weight, its simple, well-conceived operation concept and the large number of measurement functions make it an indispensable tool for anyone who needs an efficient measuring instrument for outdoor work.
The R&S FSH4/FSH8/FSH13/FSH20 is a handheld spectrum analyzer and depending on the model and the options installed- a power meter, a cable and antenna tester and a two-port vector network analyzer. It provides the three most important RF analysis functions that an RF service technician or an installation and maintenance team needs to solve daily routine measurement tasks. For example, it can be used for maintaining or installing transmitter systems, checking cables and antennas, assessing signal quality in broadcasting, radio communications and service, measuring electric field strength or in simple lab applications. The R&S FSH4/FSH8 can perform any of these tasks quickly, reliably and with high measurement accuracy.
Weighing only 3 kg, the R&S FSH4/FSH8/FSH13/FSH20 is a handy instrument. All frequently used functions have their own function keys and are within fingertip reach. The brilliant colour display is easy to read even under poor lighting conditions, and it has a monochrome mode for extreme conditions.
The capacity of the R&S FSH4/FSH8/FSH13/FSH20 battery enables uninterrupted operation for up to 4.5 hours. The battery is changed within seconds. And if it rains? No problem – all connectors are splash-proof.
Frequency Range/Model No.
R&S FSH4 model .04/.14 9 kHz to 3.6 GHz
R&S FSH8 model .08/.18 9 kHz to 8 GHz
R&S FSH4 model .24 100 kHz to 3.6 GHz
R&S FSH8 model .28 100 kHz to 8 GHz
R&S FSH13 model .13/.23 9 kHz to 13.6 GHz
R&S FSH20 model .20/.30 9 kHz to 20 GHz