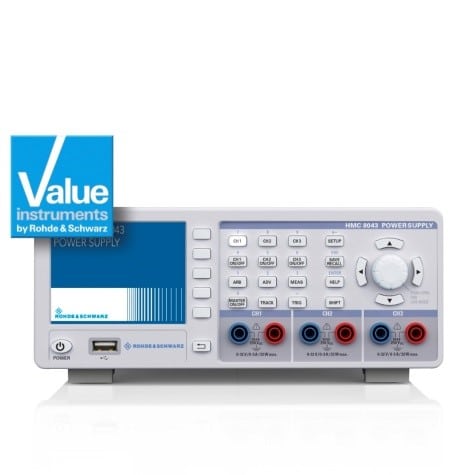 Product Overview
One, two or three channels – R&S HMC804x power supplies with their specifications and wide range of functions are ideal for use in development labs and industrial environments. Thanks to their high energy efficiency, the linear power supplies remain cool and quiet, even at maximum load.
Practical interfaces and connectors allow users to work quickly and conveniently with the R&S HMC804x, even in 19" racks.
The R&S HMC804x family consists of three models with a maximum total power of up to 100W and a continuous voltage range from 0V to 32V.
The one-channel R&S HMC8041 delivers a maximum of 10A, the two-channel R&S HMC8042 a maximum of 5A and the three-channel R&S HMC8043 a maximum of 3A per channel.
The two-channel and three-channel models enable users to connect multiple outputs in parallel or in series to increase the voltage or current.
The outputs are galvanically isolated, floating, and protected against overloading and short circuits. Voltage, current and power values are output on a brilliant QVGA display.
Model Selection
| | | |
| --- | --- | --- |
| Designation | Type |   |
| Power Supply, 3 channels, 99 W | R&S HMC8043 | |
| Power Supply, 3 channels, 99 W, with GPIB interface | R&S HMC8043-G | |