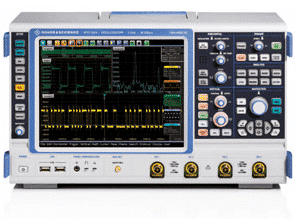 Product Overview
The R&S RTO oscilloscopes combine excellent signal fidelity, high acquisition rate and the world's first real time digital trigger system with a compact device format in the 600 MHz up to 4 GHz class. They offer hardware-accelerated measurement and analysis functions as well as an advanced user interface that makes these instruments really fun to work with.
With an acquisition rate of one million waveforms per second – the highest rate available on the market – the R&S RTO oscilloscopes find signal faults quickly. They even capture and analyze rare signal details that, until now, have often gone undetected.
The world's first real time digital trigger system precisely correlates the trigger event to the measurement signal. In this way, it not only helps to detect errors with extreme reliability, but also to accurately locate them.
Despite the wide variety of measurement and analysis functions, the oscilloscopes are easy and intuitive to operate. Flat menu structures and signal flow diagrams simplify navigation. Transparent operating menus do not hide any of the measurement diagrams, and signal icons with real time preview clearly show what is currently happening.
Model Selection
Base unit                        Bandwidth                    Channels
R&S RTO1044              4 GHz                                4
R&S RTO1024              2 GHz                                4
R&S RTO1022              2 GHz                                2
R&S RTO1014               1 GHz                                4
R&S RTO1012               1 GHz                                2
R&S RTO1004               600 MHz                        4
R&S RTO1002               600 MHz                        2