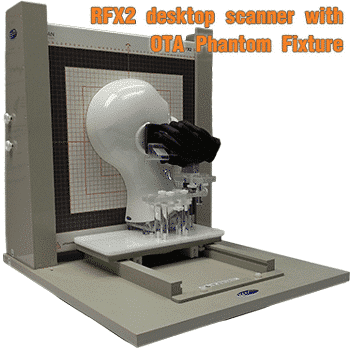 RFxpert is the fastest OTA performance test system for mobile devices.
Most leading mobile device manufacturers and wireless service providers are already using RFxpert for quick and cost effective total radiated power (TRP) measurements.
RFxpert is the only low-cost, bench-top solution for providing real-time analysis and optimization of your antennae designs.
CTIA mandates OTA performance (total radiated power: TRP) measurements of mobile devices using a phantom head and hand. EMSCAN collaborated with a CTIA listed phantom fixture manufacturer, IndexSAR, to provide an OTA Performance bench top test fixture with phantom head+hand. This dedicated test fixture used with the RFX2 scanner performs fast accurate measurements with excellent correlation to a full compliant OTA test system.
Mobile devices placed in the OTA head+hand kit can be positioned repeatedly against the RFX2 to get TRP measurements in seconds. The kit can be set to any angular position if required. Unrivalled speed of the RFX2 gives designers the freedom to make rapid prototypes and explore new designs, materials and forms. Optimizing complex embedded antenna designs at the desktop without wasting time and money or waiting in congested anechoic chamber lines. When used in manufacturing in end of line testing, it can give confidence that the final assembled product conforms to the user's specifications.