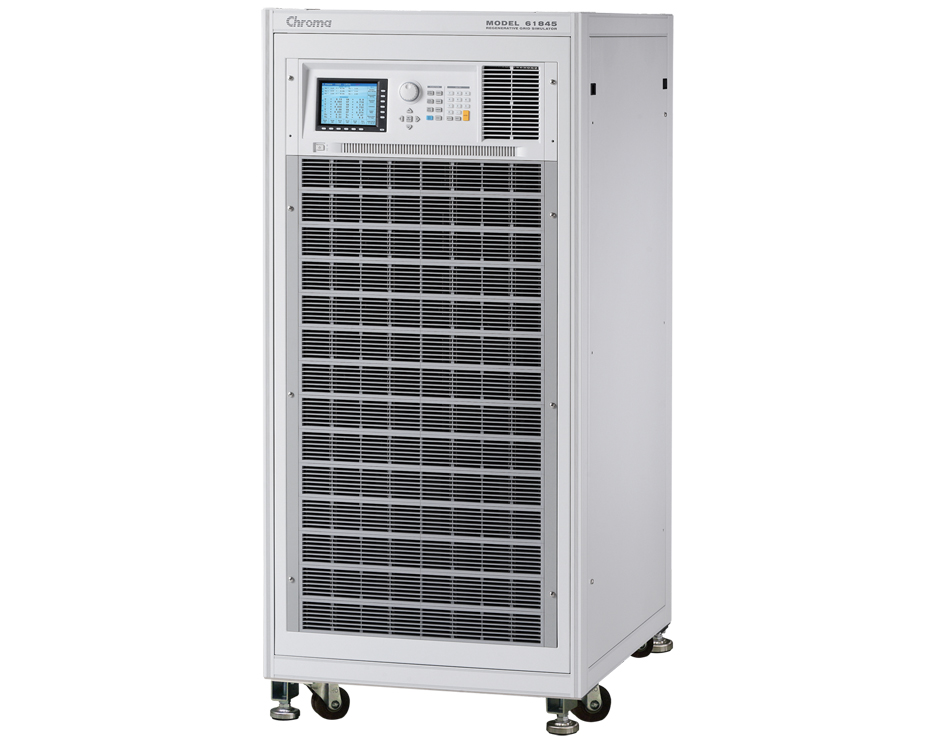 Market demand for alternative energy is steadily growing, as increasing numbers of Distributed Resource (DR) such as PV and wind energy systems call for rigorous regulation and test standards for energy feed into the grid (for instance: IEEE 1547 / IEC 61000-3-15 / IEC 62116).
To ensure this, it is mandatory for the manufacturers of such systems to conduct tests and to prove the compliance of their equipment. The Chroma 61800 series with full 4-quadrant and full regenerative features is the right solution for this application as it is capable of meeting the aforementioned regulation and test standards.
The 61800 regenerative grid simulator allows users to vary all relevant parameters in order to simulate the test criteria required for the EUT testing. This includes variation of frequency, phase angle and amplitude, voltage drops in either three phases, single phase or unbalanced three phase voltage conditions could easily simulated. And most importantly, the regenerative feature with 61800 grid simulator provides an effective energy cost saving solution as energy generated by EUT could feed into the grid through 61800 instead of dissipate as heat during test process.
The 61800 AC grid simulator / power source / supply could also meet test requirements with smart grid and EV related test applications, such as Vehicle to Grid (V2G) and Energy Storage System (ESS) testing.
The 61800 regenerative grid simulator / supplies are not only limited to product development RD stage, the extensive features could also be implemented for design/quality verification and production stages. Using the state of the art full digital control technology, the grid simulator can deliver the maximum output voltage up to 300Vac and output frequency from 30Hz to 100Hz. The AC+DC modes extend the applications not only for providing pure AC voltage, but also DC component for DC offset testing.
The 61800 series is able to provide precision measurements such as RMS voltage, RMS current, true power, power factor, current crest factor and so on. By applying the advanced DSP technology, the 61800 series can easily simulate power line disturbance (PLD) by LIST, PULSE and STEP modes.