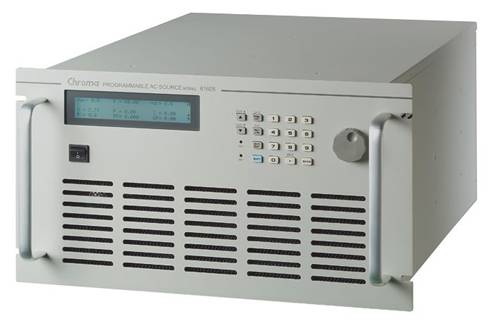 The Chroma Model 61600 series Programmable AC Power Source / Supply delivers pure, instrument grade AC and DC power at very low cost. The 61600 AC power source offers output voltage from 0 to 300VAC, and frequency from 15 to 1.5KHz.
An easy to use software can let users edit an auto-run profile and record the measuring data during the test. It is suitable for commercial, avionics, marine, and military applications from bench-top testing to mass production.
The 61600 AC power supplies generate a very clean AC output with typical distortion less than 0.3-0.5%. With power factor correction circuit, the 61600 AC power source yields higher efficiency and deliver more output power. Using the state-of-the-art PWM technology, the Chroma 61600 AC source is capable of delivering up to 6 times of peak current verses to its maximum rated current which makes it ideal for inrush current testing.
61600 Series – 0 to 4kVA Single Phase – Download: Datasheet
61611/61612 – 12kVA to 160kVA Single / Three Phase – Download: Datasheet