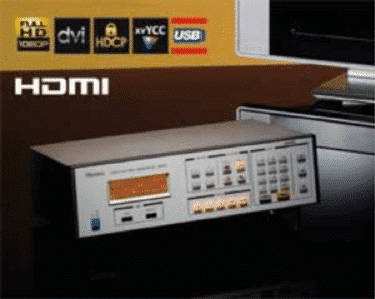 The Chroma 2402 Video Pattern Generator with the features described below is specially designed to fit in the requirements and application of production line for LCD-TV/PDP/Monitor manufacturers.
1. Supports HDMI Functions 
In order to meet the test requirement for multimedia display, the Chroma 2402 supports the state of the art HDMI V1.3 (High Definition Multimedia Interface) with video signal resolutions up to 1080p and xvYCC color standard.
2. Exclusive Digital Signals
It supports the digital signals of DVI, HDMI and HDTV that meet the latest  video interface requirements.
3. Convenient & Rapid Function
The test programs built-in or created in advance by users increase the production efficiency. Users can edit the USER KEY to work with compound functions in specific test to save the test time.
4. Friendly USB Interface
Chroma 2402 is equipped with a convenient and automatic operation interface that allows all parameters to be easily set via panel or remote controlled PC through the the USB interface.
5. Large Capacity 
It has built in large capacity of storage memory, (1000 TIMINGS and PATTERNS, 500 PROGRAMS.)
6. Multiple Outputs 
Chroma 2402 provides 2048×2048 Graphic Size that is qualified for the HDTV high quality image output. The standard signal interfaces HDMI, DVI-I, VGA D-Sub are built in for industry application.
7. Rich Timing & Pattern Database 
Rich timings and diversified patterns are built in for selection including standard static, dynamic and pattern scroll screens to check the characteristics response and white balance of UUT