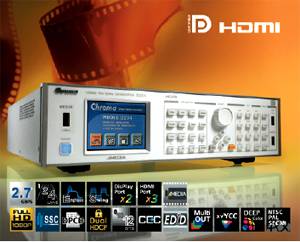 The Chroma 2234 Video Pattern Generator has Multi-Media playback technology to provide versatile motion pictures for display quality evaluation test. It has high resolution test quality and multiple output support that can meet the requirements for multimedia video tests such as LCD Monitor / LCD TV / PDP / Projector.
This Video Pattern Generator provides both analogue and digital signals, also supports multiple ports for independent output test and multimedia audio/video formats.  For the digital signal, the pixel rate of TMDS output is up to 330MHz and the test screen resolution is able to support beyond WQUXGA. Moreover, to cope with the higher frequency signal test for DVI Dual HDCP tests, it also supports dual link DVI test applications.
The Chroma 2234 has, built in, latest  high resolution multimedia digital video transmission interface, HDMI V1.3, to provide high speed bandwidth and colour depth. It supports 24, 30, 36 bits (RGB or YCbCr) and new colour standard xvYCC along with sYCC, Adobe RGB, and Adobe YCC(CEA-861E) to implement the real natural colours and high resolution images.