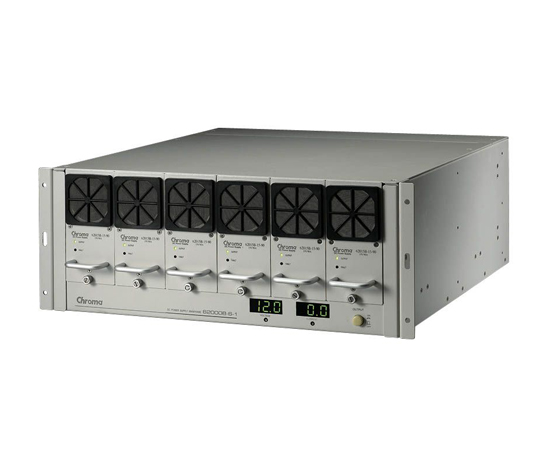 Chroma's new 62000B series of Modular DC Power Supplies offer many unique features for burn-in and plating/electrolysis applications.
The 62000B family offers 5 types of power module with ranging from 1V to 150V, current from 10A to 90A, and offers two mainframe type of six and three position. The six position mainframe can envelope in up to six power modules paralleled operation for 9KW power output. The 62000B can easily parallel up to fourteen mainframes to 120KW with current sharing and CAN bus control for bulk power applications.
The Modular DC Power Supplies of 62000B are very cost effective with high power density and low current ripple. These instruments have be designed for burn-in applications such as the LCD panels, DC-DC converters, power inverters, notebook computers, battery chargers and many other types of electronic devices.
Hot-swap Operation 
Equipped with the functionality of N+1 redundancy and hot-swap, the 62000B Series of modular DC power supplies are most applicable for 24 hours non-stop applications such as the SMD plating production lines, as well as product life burn-in test for IT products like DC converters, LCD backlight inverters and routers
For continuous operation applications the modular hot-swap design allows engineers to replace the failed unit on-site without shutting down the entire system.