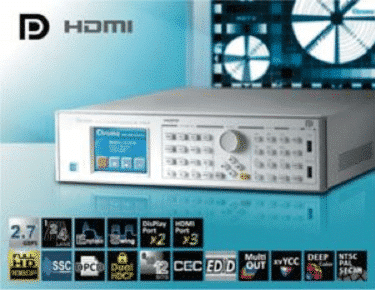 The Chroma 2233-B Programmable Video Pattern Generator is a multi-function measurement equipment. Combining Analog / DVI / HDMI / DisplayPort / SDTV / HDTV signals with high resolution test quality and multiple output support, it is capable of providing a complete test solution to customers.
For the digital signal of TMDS output, the pixel rate is up to 330MHz with resolution supporting above UXGA. Moreover, for the higher frequency test application, Chroma 2233-B supports DVI Dual HDCP for 2 Link DVI transmissions.
As large scale and high definition have become the trend for video industry, the Chroma 2233-B supports the up-to-date high resolution multimedia digital video transmission interface, HDMI V1.3 is able to provide higher speed bandwidth and colour depth. It supports 24,30,36 bits (RGB or YCbCr) and new colour standard xvYCC, sYCC, Adobe RGB, and Adobe YCC(CEA-861E) to get real natural colour and high resolution image.
DisplayPort is the state-of-the-art video output interface defined by Video Electronics Standards Association (VESA). It is an open and extendable interface standard for industrial applications. The objective of this standard is to lower down the platform design cost and provides an interoperable digital communication interface for PC and components. Same as HDMI, the high definition digital audio and video frequency can be received via a digital video transmission cable. Its maximum transmission bandwidth is up to 10.8Gb/s. The sufficient bandwidth is able to fulfil the requirements for large display with higher resolution in the future.