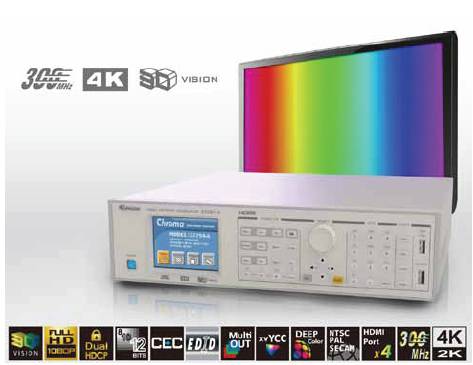 The Chroma 22294-A is a programmable video pattern generator that is equipped with various standard analogue /digital signal output functions. The built-in high speed graphic engine is able to provide standard test signals and patterns for display devices with various resolutions to meet the requirements of the multimedia display industries today and in the future for R&D and test applications.
The 22294-A has 4 HDMI output ports that can provide multi-signal output simultaneously to meet the test applications for multi-port displays nowadays.
The RGB (BNC / D-Sub) and component (YPbPr / D-Terminal) signals provided by 22294-A are able to output all kinds of standard signal formats to test the displays with traditional analogue interfaces. For digital DVI output signals, the pixel rate is up to 330MHz and supports dual channel HDCP which is applicable for high resolution display testing.
For TV signals, the 22294-A is able to output the signals that comply with NTSC, PAL and SECAM specifications, also to support CVBS and Y/C separation signal formats for BNC / S-Video / SCART output ports. Special TV function tests such as Closed Caption, V-chip and Teletext are also supported.
Chroma 22294-A has a full colour graphic interface and super large storage memory with lots of special test patterns built-in such as xvYCC, HDCP, E-EDID, Deep color, CEC, Lipsync and high-definition test images, to give the user an easy way to judge the test results and save the time for production improvement as well as to achieve cost effective control.