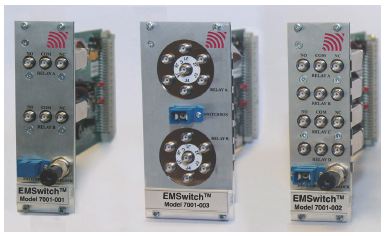 ETS-LINDGREN'S EMSwitch RF COAXIAL SWITCH MATRIX is a general purpose multi-channel switch matrix, used to switch the RF path of equipment for RF measurement applications, including immunity, emissions, and wireless measurements.
EMSwitch plug-in cards are available in several versions:
Two SPDT Coaxial Relays
Four SPDT Coaxial Relays
Two SP6T Coaxial Relays
40 GHz option available .Any combination of EMSwitch plug-in cards are supported.
EMSwitch plug-in cards switch RF signals from DC – 18 GHz, with powers up to 100 W (3 GHz) directly or any RF power switches indirectly. When high power RF amplifiers are used in a test system, the EMSwitch modular plug-in card can be connected to an optional EMSwitch Remote Relay Module. This 19" rack mountable box has an internal power supply to power 12 VDC/28 VDC relays and can control up to 4 external relays.
EMSwitch is fully supported by TILE!TM, EMQuestTM, and other test automation software packages.
Performance Specifications (Plug-in Cards)
MODEL FEATURE 

7001-001(PLUG-IN CARD)

 7001-002 (PLUG-IN CARD) 

7001-003 (PLUG-IN CARD) 

Number of Relays

2x SPDT

4x SPDT

2x SP6T

Frequency Band

DC: 18 GHz
(40 GHz Optional)

DC: 18 GHz
(40 GHz Optional)

DC: 18 GHz
(40 GHz Optional)

RF Switching Capacity

200 W Up to 1 GHz
125 W 1 to 4 GHz
90 W 4 to 8 GHz
75 W 8 to 12 GHz
60 W 12 to 18 GHz

200 W Up to 1 GHz
125 W 1 to 4 GHz
90 W 4 to 8 GHz
75 W 8 to 12 GHz
60 W 12 to 18 GHz

200 W Up to 1 GHz
125 W 1 to 4 GHz
90 W 4 to 8 GHz
75 W 8 to 12 GHz
60 W 12 to 18 GHz

InterlockInterlock Switch

First Switch on Each Card Can be True Interlock Switch

First Switch on Each Card Can be True Interlock Switch

First Switch on Each Card Can be True Interlock Switch