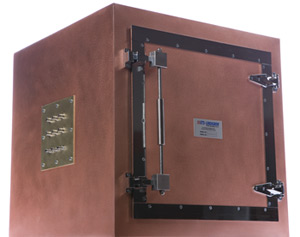 The 5240 Table Top Test Cell is a Portable Concept in High Performance EMI/RFI Test and Repair.
The ETS-Lindgren 5240 Series Table Top Test Cell is a high performance, portable shielded enclosures designed for fast, convenient EMI/RFI testing and verification. Built to the same reliable shielding standards as full size ETS-Lindgren enclosures, the Table Model Enclosure provides effective shielding in a compact, easy-to-use format.
The Table Model Enclosure is available in four standard, space-saving sizes, including 18″ x 18 ", 24″ x 24″, 30″ x 30″, and 36″ x 36″, as well as in custom sizes to suit any test and repair environment. An economical 12″ x 12" version is also available to meet limited space or less demanding performance requirements. On request, the Table Model Enclosure is available in rack-mounted or in-line versions and may be fully integrated into automated assembly systems
Applications
Designed to meet a variety of demanding testing, QC/QA, and repair requirements calling for shielding performance through 120 dB, the 5240 Series is ideal for wireless, cellular, PCS, radio, cordless, and pager applications.