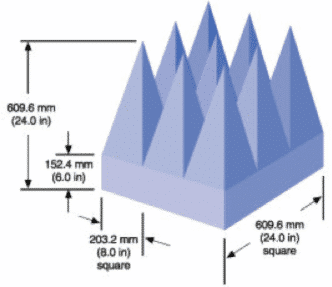 EMC-24PCL is an ultra broadband microwave absorber which has been optimized for EMC applications for MIL-STD461F.
The EMC-24PCL Ultra Broadband Microwave Absorber is an evolution of traditional pyramidal polyurethane absorber and combines carefully balanced dielectric properties with a special geometry that is suited for low frequency operation. ETS-Lindgren EMC-24PCL microwave absorber meets or exceeds IEC 61000-4-3 and MIL-STD 461D/E performance requirements and is ideal for new installations or for chamber retrofits to upgrade performance. It provides an ultra broadband performance range of 80 MHz to 40 GHz.
EMC 24PCL Ultra Broadband Microwave Absorber has excellent power handling capability. This absorber has been proven to safely withstand up to 0.50 Watt/in squared CW power density in RF and microwave frequency ranges. EMC-24PL can safely handle the most stringent commercial EMC radiated field strength of 200 V/m (or equivalent power density of 110 Watt/m2, 0.1 Watt/in2) continuous wave. Maximum service temperature is 90 ° C (190 ° F, continuous.
Measured Reflections at Normal Incidence
| | |
| --- | --- |
| MHz | dB |
| 1,000 | -40 |
| 10,000 | -50 |
| 100 | -7 |
| 18,000 | -50 |
| 2,000 | -50 |
| 200 | -15 |
| 200 | -15 |
| 250 | -20 |
| 3,000 | -50 |
| 300 | -30 |
| 40,000 | -45 |
| 500 | -35 |
| 6,000 | -50 |
| 60 | -3 |
| 80 | -6 |