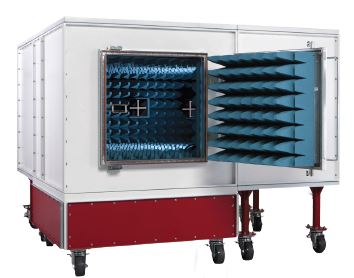 Product Overview
ETS-Lindgren's AMS-8055 MIMO Single Cluster Environment Simulator is a compact, fully anechoic RF enclosure for making single cluster MIMO OTA performance measurements. The AMS-8055 is freestanding and built on a moveable cart configuration; it fits into parent buildings without special installation or construction.
This MIMO OTA test system for wireless device measurement may be used for rapid prototyping, design validation, pre-certication testing, performance measurement, and production sampling.
The AMS-8055 System includes our versatile EMQ-100 Antenna Pattern Measurement Software. The software makes fully-automated MIMO OTA measurements for. Post-processing capabilities include calculations average throughput, through put vs. angle, throughput sensitivity and many other MIMO and SISO related parameters. Advanced graphing capabilities allow data to be shown in a variety of 2D and 3D formats, exported to Microsoft Excel™, PDF files or saved in RTF format.
Standard Configuration
Anechoic Lined Enclosure with:
— DUT Positioner
— Measurement Antennas
— Accessory Trays
EMQuest Data Acquisition and Analysis Software