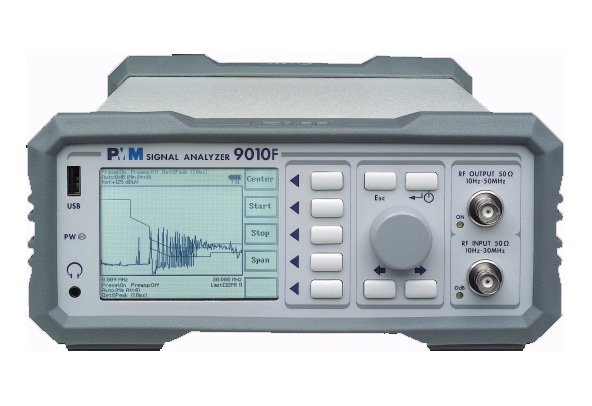 CISPR detectors as the Q-Peak, C-RMS and C-AVG detectors are characterized by a long settling time: measurements must be performed with a long observation time (hold time) of 1 – 2 seconds for each frequency step; setting hold times lower than 1s can reduce the test time but at the cost of possible severe errors and under-estimation of the levels.
The 9010F overcomes this limitation by scanning the entire spectrum in less than 25 seconds with hold time of 1 second and for all detectors, instead of hours.
Such methods for reducing the test time e.g. pre-testing, Smart Detectors and Frequency Tables are no more needed.
The 9010F (Fast) is a powerful EMI receiver, fully compliant to CISPR 16-1-1, intended for measuring conducted and radiated interferences from 10 Hz up to 30 MHz, or even up to 3/6/18 GHz when matched with 9030/9060/9180 extension unit (optional, future implementation). All measurements performed by the 9010F are according to the most accepted standards like: IEC, CISPR, EN (EuroNorm), FCC, VDE,..
The 9010F design adopts an innovative philosophy made possible only in the recent years by the availability of superior technology components. This equipment is fully digital but the input preselector and attenuator – and, of course, the output stage of the internal reference generator – thus combining accuracy and reliability in an unique modern, user-friendly EMI receiver and signal analyzer.