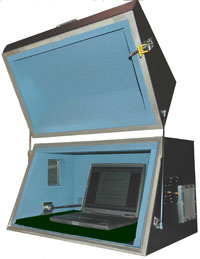 Product Overview
The Model 5225-2 Access Point Test Enclosure is a Bench-Top test system that has been developed for testing medium-sized wireless devices, such as laptop computers. The unit is constructed of durable welded aluminium and features a large clamshell lid with pneumatic springs and dual locking latches.
Flat RF absorber lines the interior and greatly reduces resonant behaviour in the cell.
The Model 5225-2 standard configuration consists of two sets of printed patch antennas circularly polarized, covering the 2.4 GHz and the 5.8 GHz bands.
An option is available for a printed broadband linearly polarized patch antenna covering the cell phone frequencies from 700 MHz to 2 GHz. The Model 5225-2 can be customized with different antennas to test other frequencies.
Standard Configuration
2 ea. 5.8 GHz Circularly Polarized Antenna Patches for Wi-Fi (802.11)
2 ea. 2.4 GHz Circularly Polarized Antenna Patches for Wi-Fi (802.11)
Type SMA Coaxial Feed Through
Filtered DB-9 Feed Through
Fiber Optic Feed Through
Power Line Filter (6 A 115/230 VAC)
Two Year Warranty