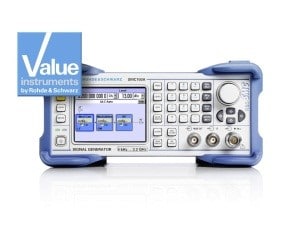 Product Overview
The R&S SMC100A offers outstanding signal quality at an attractive price. It covers the frequency range from 9 kHz to 1.1 GHz or 3.2 GHz. Output power is typ. > +17 dBm.
All important functions (AM/FM/φM/pulse modulation) are already integrated in the instrument. This makes the R&S SMC100A signal generator a flexible and versatile instrument.
Total cost of ownership is an important factor when purchasing a measuring instrument. The R&S SMC100A, apart from offering a low initial cost, also boasts low service costs since users can replace defective modules on their own and verify the level repeatability and accuracy by using the R&S NRP-Z91/R&S NRP-Z92 power sensors.
These outstanding features make the R&S SMC100A ideally suited for use in service and maintenance labs.
Due to its small dimensions and lightweight design, the R&S SMC100A is also the perfect choice for field applications or training and education environments.