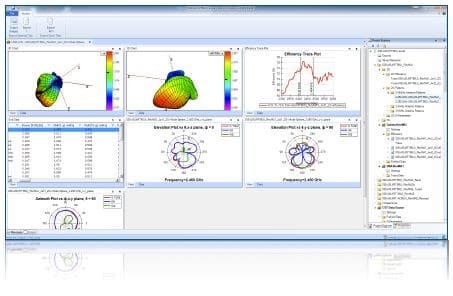 Product Overview
Quarry is an advanced analysis and reporting platform used by the wireless device developers and test labs to import measured and simulated data from various sources for analysis and reporting in a common environment. With the Advanced Reporting features of Quarry, full compliance/pre-compliance reports can also be fully automated!
Quarry Base is the core engine of Quarry to which data sources and options are added for full customization. Quarry Base is a great stand-alone tool for any workstation where data is being analyzed and exported to PDF, Word, PowerPoint or Excel. The base package is installed on every computer running Quarry and includes a set of powerful analysis and basic reporting features that allows users to access and view all data in existing Quarry projects.
Quarry is now fully integrated with ETS-Lindgren's CTIA-compliant EMQuest™ Test Executive antenna measurement software providing a single click auto-export of data for further post analysis and reporting. Quarry can automate any standard internal or compliance report (FCC, CTIA, and more), error-free and in a fraction of the time normally spent. A variety of custom report capabilities is available in minutes, instead of hours.
Standard Configurations
Standard Quarry OTA Bundle – QBU-EMQ-001
Standard Quarry SAR Bundle – Standard Quarry SAR Bundle
Standard Quarry EMC Bundle – QBU-EMC-001
Standard Quarry Design/Simulation Bundle – QBU-SIM-001