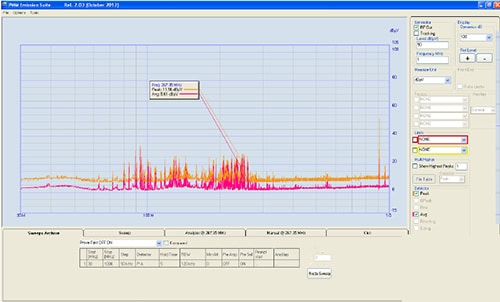 PMM Emission Suite is a very powerful software tool specifically designed to operate a wide range of PMM EMI Receivers, which could differ in frequency range coverage or full/pre-compliant features referred to CISPR 16-1-1, then some time it could happen some features will appear as disabled, depending on the model of PMM connected device.
Software structure has been designed to offer all necessary info and commands at first glance.
The main window is divided in 3 sections, related to Graph, Operating Modes and Global Settings.
All accessory functions, like Save/Open Panel, Remote Communication selection and Factors/Limits creation, are located close to the top left corner, where easily accessible drop-down menus provide full control of those functions which don't require continuous access by the operator.
The PMM Emission Suite standard version is free and it is included in all our digital receivers.
The latest version is always downloadable from our website.