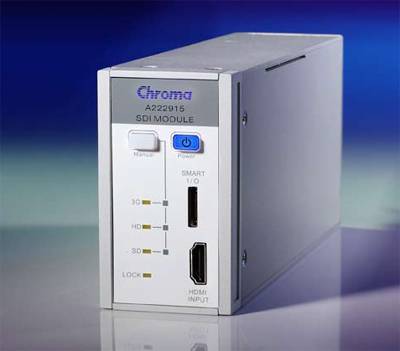 The Chroma A2229015 SDI Module is specially designed to meet the test demands of diversified low cost SDI signals for today's display industry.
It is an HMDI to SDI Adapter that can be controlled by Smart I/O. With the combination of the Chroma VPG with A222915, the external module can be connected for various SDI tests.
The Chroma A222915 is equipped with the latest 3G-SDI standard resolution which is the mainstream specification of all 1080P transmissions. It can double the HDTV transmission rate in the advanced video environment.
The Chroma A222915 can be applied to distributed amplifiers, video routers and the serial connection interfaces of switches, cameras and other devices.
The SDI can use a 75Ω coaxial cable to transmit the uncompressed digital video signal over a long distance.
Moreover, the Chroma A222915 uses HDMI as the signal input source and 2 sets of SDI can output at the same time. SD-SDI/ HD-SDI/3G-SDI supports 2CH / 8CH – 48khz Audio output that can work with VPG to test various standard static and dynamic images.