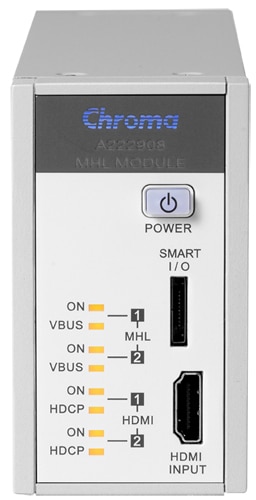 Product Overview
Chroma A222908 MHL module is a test equipment that supports the Mobile High-definition Link (MHL™) signal, which is able to work with the Chroma Video Pattern Generator for extending MHL signal output, in order to provide the solutions for the display industry.
The A222908 supports the specification of MHL v2.0 which can expand 1 set of HDMI signal to 2 sets of MHL signal and HDMI signal. Its main features are as the following.
Standard MHL signal output
It provides two sets of standard MHL signal output that supports up to 1080P 60Hz (PackedPixel mode) and 8-channel audio signal transmission.
3D standard format signal output
Supporting MHL defined 3D format (Frame packing / Top-and-Bottom / Left-Right) that works with the 3D Video Pattern Generator of Chroma to output 3D test pattern for 3D display application.
Multiple simultaneous signal port outputs 
The A222908 is equipped with a signal output function of 2 sets of MHL and 2 sets of HDMI simultaneously that comply with current multiple input port display test applications.