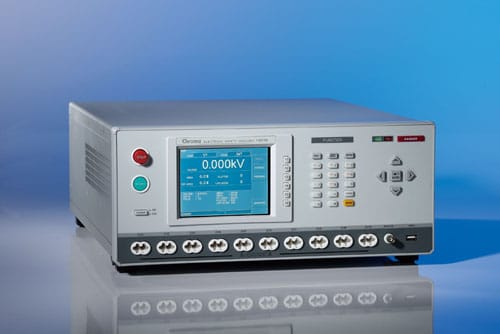 The Chroma 19036 is the industry's first test device that combines the functions of impulse tester and hipot analyzer for testing the impulses of wound components. The tester has 5kVac/6kVdc high voltage output and 6kV impulse voltage that can comply with the wound components test demands by providing a maximum 10 channel output for multichannel scanning tests to save time and labor costs.
The quality verifications of wound components include AC/DC hipot test, IR test and impulse winding test. Chroma integrates the above tests into 19036 Wound Component EST Analyzer that can perform safety tests on wound products like motors, transformers and heaters to verify their quality and efficiency.
Since the poor insulation of a coil often causes  a layer short, cross-line short and pin short, layer short circuit test are required for coils as the reason could be initial design error, poor fabrication process or bad insulation material. Moreover, the wound components for safety tester need to be tested with Impulse Winding Tester (IWT) to check the insulation ability of windings. It can measure multiple test points in one test instead of switching test points manually.
Combining with impulse winding test function the 19036 has 6kV impulse voltage, AREA SIZE COMPARISON, DIFFERENTIAL AREA COMPARISON, FLUTTER DETECTION and LAPLACIAN DETECTION judgment that are effective methods for detecting poor coil insulation.
The 19036 is equipped with a patented 4-wire test port that has both Drive and Sense in compliance with hipot specification to provide 10 channels of 4-wire test functions. Up to 40ch of scanning test can be conducted when the 19036 is configured with 16ch scan box.
19036 also has HSCC functions to check for any bad contact prior test. It can solve the test fail problems caused by motor or transformer bad contact and improve the test quality as well as prolonging the test equipment life.
The motor test standard such as UL 1004-1 requires a high power safety tester. For the user that needs to test large leakage currents or perform large equipment electrical safety tests, the Chroma 19036 has the capability of outputting and measuring AC 100mA/ DC 20mA with high power hipot tests and other safety tests integrated into one.