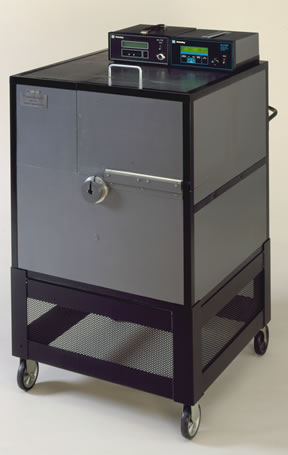 Frequency:  2450 MHz
The ETS Lindgren HI-2790B Calibration Comparison System complies with US Government (CDRH/FDA) requirements for evaluating calibration consistency of microwave oven survey meters used by oven manufacturers in compliance testing.
The new HI-2790B offers a new, custom power and control module that improves performance, simplifies operation and servicing of the unit. The integrated power/control module combines the function of the microwave source, power monitor, power sensing, and closed-loop level control required on previous models. Improved power level and frequency stability, along with digital display of all operating parameters, provide easier operation, improved operating stability, and allows simple replacement module servicing. All the microwave power generation, control, and monitoring functions are contained in one user-replaceable module. The broad dynamic range of the
HI-2790B allows this single new unit to replace two earlier models. With this new power/control system, only the HI-1710 Local Calibration Reference meter requires annual calibration to keep this system fully acceptable for CDRH compliance monitoring.
The HI-2790B system consists of:
A portable anechoic chamber mounted on a frame with castor wheels for ease of movement.
A Power/Control Module containing a crystal-controlled 2450 MHz solid state source and a power
A Meter for monitoring power to the waveguide and forward, reflected, and transmitted power.
An HI 1710 Microwave Survey Meter to serve as a Local Calibration Reference (HI 1710 LCR).