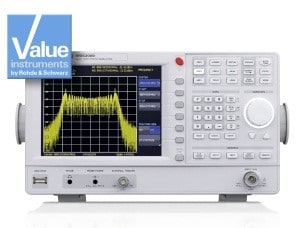 1.6 GHz/3 GHz Spectrum Analyzer
Product Overview
HMS-X with EMC option             HMS-X basic unit
Amplitude measurement range     -114 dBm to +20 dBm                 -104 dBm to +20 dBm
Displayed Average Noise Level (DANL) typ. -135 dBm                      typ. -104 dBm
Resolution bandwidth 100 Hz to 1 MHz, 200 kHz (-3 dB),                 10 kHz to 1 MHz, 200 kHz (-3 dB)
200 Hz, 9 kHz, 120 kHz, 1 MHz (-6 dB)
Video bandwidth                             10 Hz to 1 MHz                               1 kHz to 1 MHz
Your HMS-X Spectrum Analyzer
You can create your HMS spectrum analyzer by combining a basic unit with any of three available options. In case of growing requirements, upgrade vouchers allow you to upgrade your instruments with all options at any point in time.
HMS-X options                                     Option code*1                                 Voucher code*2
EMC option incl. preamplifier             HMS-EMC                                               HV213
Bandwidth upgrade to 3 GHz             HMS-3G                                                 HV212
Unlock built-in tracking generator     HMS-TG                                                 HV211
*1 available only with purchase of HMS-X basic unit
*2 activate HMS-X options at any time after purchase of HMS-X basic unit
HMS-EMC    
This option activates all the functions that are required for EMC pre-compliance measurements.
The preamplifier option has been integrated into the new HMS-EMC option.
HMS-3G
The frequency range is increased from 1.6 GHz to 3 GHz with this option.
HMS-TG
This option activates the tracking generator in the instrument.