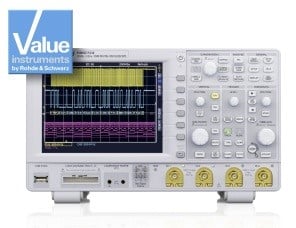 Product Overview
The HMO Compact Digital Oscilloscope has 8 different models in a compact design with bandwidths from 70 to 200MHz available with 2 or 4 channels. The mixed signal functionality is always included in the HMO compact series with no software option being necessary to unlock it.
The brilliant VGA TFT display with LED backlighting and very wide viewing angles makes working with the HMO oscilloscope a pleasure. The intelligent screen design hides menus when these are not in use. This allows a maximum display area for measurement data, despite the extremely compact instrument dimensions – all this without the otherwise required wider display.
Depending on their requirements users can choose between four 2 channel versions and four 4 channel versions with bandwidths between 70 and 200 MHz.
Model Selection
                         200MHz 150MHz 100MHz 70MHz
4 channel HMO2024 HMO1524 HMO1024 HMO724
2 channel HMO2022 HMO1522 HMO1022 HMO722