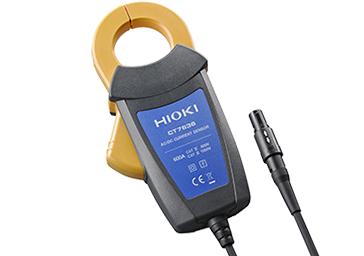 Hioki clamp on meters are best-in-class measuring devices incorporating Hioki's expertise in current sensing technology.
The CT7636 is a 600 A AC/DC Current Sensor that pairs with the detachable Display Unit CM7290 to capture instantaneous waveforms that can be output to a Hioki memory recorder or logger for further analysis.
CAT IV 600 V
Note: CT7600 series cannot be used alone. Use with the Display Unit CM7290, CM7291 to connect with Data Loggers and Memory HiCorders. When used in combination with CM7290 or CM7291, the frequency band of current display and waveform output becomes narrow.
Basic specifications (Accuracy guaranteed for 3 years, Post-adjustment accuracy guaranteed for 3 years)
Rated measurement current
600 A AC/DC
Max. measurement current
600 A
(requires derating at frequency)
Max. allowable peak input
900 A peak
Bandwidth
DC to 10 kHz (-3dB)
(When used in combination with CM7290 or CM7291: DC 3 Hz to 1 kHz)
Typical accuracy
±1.8 deg. (DC < f ≤ 66 Hz)
Output rate
1 mV/A
Max. rated voltage to earth
AC/DC 600 V (CAT IV)
AC/DC 1000 V (CAT III)
Core diameter
φ 33 mm (1.30 in) or less
Output connectors
HIOKI PL 14
Operating temperature range
-25 °C to 65 °C (-13 °F to 149 °F)
Dimensions and mass
64 mm (2.52 in)W × 160 mm (6.30 in)H × 34 mm (1.34 in)D, 320 g (11.3 oz), Cable length 2.5 m (8.20 ft)
Accessories
None