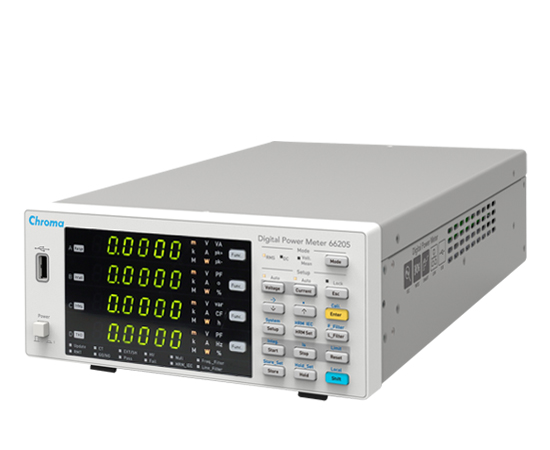 The 66205 is the 2nd generation of the 66200 series power meter designed specifically for single channel measurement. Its state of art design is capable of providing highly accurate power measurements to meet the requirements of IEC 62301/EN50564 standards. Functionality improvements of the 66205 increase power measurement capabilities to a wider range of applications.
The Smart Range function is one of the most important new features added to the 66205 power meter. Smart Range allows the power integration mode to perform active power measurements with the measurement range in auto mode. Chroma's proprietary design automatically selects the appropriate range,
based on changes in sensed voltage and current, ensures the best accuracy when integrating the measurements over time.
The 66205 provides 10 selectable current measurement ranges from 5mA up to 30A. External sensor options A662017~A662020 are available to increase the current measurement range. Six selectable voltage ranges are available up to 600V. External sensor option A662012 can be used to increase the voltage measurement range to 1.2kV.
The 66205 provides a low range error up to 0.05% and is capable of meeting the measurement uncertainty requirement of IEC 62301/EN50564.
66205 power meter is designed to comply with IEC 61000-4-7. Continuous high performance harmonic measurement, with 5Hz frequency resolution and a packet harmonic function, it can accurately measure sub-harmonics , inter-harmonics and harmonics.