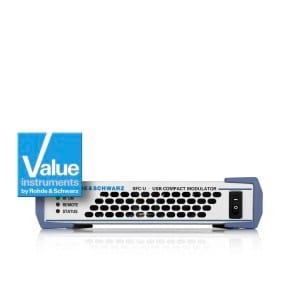 The R&S SFC compact modulator and the R&S SFC-U USB compact modulator are economical multistandard signal sources. They support realtime coding for all conventional digital and analog TV and audio broadcasting standards. The R&S SFC is equipped with a built-in computer, making it ideal for standalone operation.
The R&S SFC-U is a USB device designed for use with a PC.
The R&S SFC and R&S SFC-U have an extremely compact design. Though small in size, they are full-featured TV and audio broadcasting signal generators with an integrated transport stream player, audio/video generator and optional noise source.
The compact modulator is particularly well suited for rack installation in production test systems. It is controlled using Remote Desktop via LAN or remotely with SCPI commands. The instrument can also be operated directly with a mouse, keyboard and monitor.
The R&S SFC-U USB compact modulator offers the same signal generator functions as the R&S SFC in an even smaller housing, making room on the lab bench for the DUT and other equipment. The R&S SFC-U is connected to the USB port of a host PC and controlled from the PC. The wide range of functions make the R&S SFC-U ideal for developing software and hardware for TVs and set-top boxes.