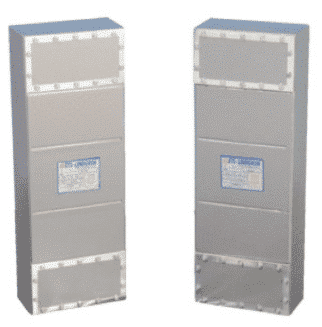 Amp Range: 6 – 100 A,  Frequency Range:  2 Line Filters = 250V-DC/5060Hz – 120V-400Hz. 4 Line Filters = 440/250V-DC/50/60Hz. 
These filters provide comparable performance to the N182X Series and may be directly substituted for this range without difficulty where low earth leakage has become a requirement.
The N242X filters have been designed for use where low earth leakage is a requirement. The performance is maintained up to full load in both symmetric and asymmetric modes. The leakage current is directly proportional to the potential difference between the neutral and earth leads at the filter input terminals.
Applications
Military Field Installations
Commercial Installations Using Motor Generator Sets
Filtering of Mains Supplies Where Maximum Safety is Required N242X Series Power Filters Series
Under Certain Circumstances, the N242X Filters May be Used with Earth Leakage Safety Cut-outs (Please Contact ETS-Lindgren for Further Information)
Electrical Specifications
| | | | | |
| --- | --- | --- | --- | --- |
| Part # | Current Max | Leakage Current Per Volt (N-E) | Voltage Max | # of Lines |
| N2420 | 6 A | 2 mA | 250 V | 2 |
| N2421 | 6 A | 2 mA | 440/250 V | 4 |
| N2422 | 32 A | 8 mA | 250 V | 2 |
| N2423 | 32 A | 8 mA | 440/250 V | 4 |
| N2424 | 63 A | 8 mA | 250 V | 2 |
| N2425 | 63 A | 8 mA | 440/250 V | 4 |
| N2426 | 100 A | 10 mA | 250 V | 2 |
| N2427 | 100 A | 10 mA | 440/250 V | 4 |