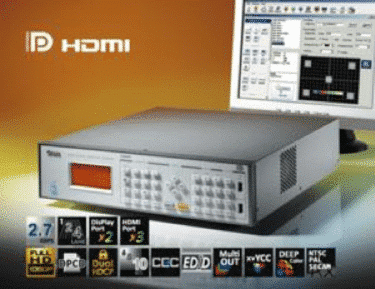 The Chroma 2333-B is a high value-added test equipment that can meet the diversified demands for multi-media displays. It has high resolution test quality and multiple output types that can support comprehensive tests for large-scale applications in the field of R&D, quality assurance and mass production.
The Chroma 2333-B combines Analog / DVI / HDMI / DisplayPort / SDTV / HDTV signals that can satisfy the needs for testing various signals from multi-media displays.
For digital signal: The TMDS output with pixel rate 25~330MHz that supports the dual channel HDCP test is able to fit in the high bandwidth test requirements under 120Hz screen refresh rate.
For HDMI output: The 2333-B provides higher speed bandwidth and colour depth. It supports 24,30 bits (RGB or YCbCr) and the new generation colour standards xvYCC, sYCC, Adobe RGB and Adobe YCC to attain truly natural colour and high resolution image screens. It also supports complete CEC and Lip Sync tests.
DisplayPort is the new video output interface promoted by Video Electronics Standards Ass ociation; VESA. It is an open and extendable interface standard for display devices. Its maximum transmission bandwidth is up to 10.8Gb/s. With the official certification of VESA, Chroma 2333-B is able to provide the consistency and integrity signals in highest standard.