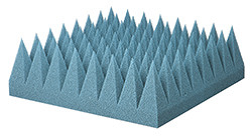 ETS-Lindgren's Filter Foam/Vent Absorber series microwave absorber is similar in appearance and geometry to conventional ETS-Lindgren pyramidal and wedge type materials, and is tested to the same rigid specifications.
Normal incidence and wide-angle performance guarantees are the same for conventional EHP series absorbers.
An added feature of the Filter Foam/Vent Absorber is that it handles approximately 10 times more RF power than conventional absorbers. Additional information on power handling capability vs. forced airflow through the material can be supplied upon request.
Frequency Range by Model
| | | |
| --- | --- | --- |
| Model | Frequency Minimum | Frequency Maximum |
| FF-3PCL | 4 GHz | 40 GHz |
| FF-5PCL | 2 GHz | 40 GHz |
| FF-8PCL | 1 GHz | 40 GHz |
| FF-12PCL | 1 GHz | 40 GHz |
| FF-18PCL | 500 MHz | 40 GHz |
| FF-24PCL | 200 MHz | 40 GHz |
| FF-36PCL | 4 GHz | 40 GHz |