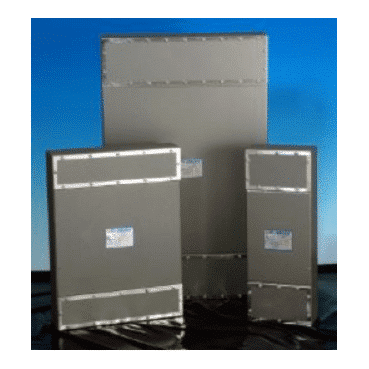 Amp Range: 16 – 200 A, Frequency Range DC/50/60/400 Hz
THE N600X POWER FILTERS are very high performance filters with low power dissipation for EMC, TEMPEST and government secure applications. For maximum performance, these filter networks are RF sealed in high quality electro-tin plated steel cases.
This range of power filters affords insertion loss in excess of 100dB from as low as 14 kHz for both off load and on load conditions.
Applications
In high performance screened rooms and anechoic chambers, the N600X series provides protection of both incoming and outgoing supplies in line with the shield performance.
In TEMPEST applications, the N600X filters provide a very high degree of protection required to obtain maximum security.
N600X filters are ideal for EMP applications needing to meet the most stringent NATO requirements.
N600X filters can be used for filtering of mains incomers entering screened room facilities
Electrical Specifications
| | | | | |
| --- | --- | --- | --- | --- |
| PART # | Current Max (Amps) | Voltage Max (Volts) | Frequency (Hz) | Number of Lines |
| 6000 | 16 | 250 | DC/50/60/400 | 2 |
| 6001 | 16 | 440/250 | DC/50/60/400 | 4 |
| 6002 | 32 | 250 | DC/50/60/400 | 2 |
| 6003 | 32 | 440/250 | DC/50/60/400 | 4 |
| 6004 | 63 | 250 | DC/50/60/400 | 2 |
| 6005 | 63 | 440/250 | DC/50/60/400 | 4 |
| 6006 | 100 | 250 | DC/50/60/400 | 2 |
| 6007 | 100 | 440/250 | DC/50/60/400 | 4 |
| 6009 | 200 | 440/250 | DC/50/60/400 | 4 |