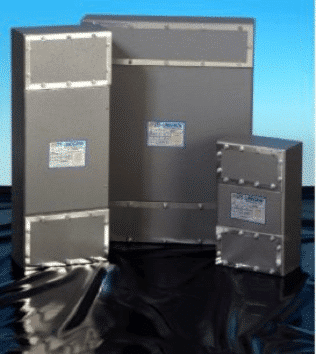 Amp Range: 16 – 200A Frequency: 250 & 440/250 V
THE N500X POWER FILTERS are high performance EMI power filters for use in EMC, TEMPEST applications, and anywhere a high performance screened room or anechoic application filters with low power dissipation.
This new range of power filters affords insertion loss in excess if 100dB from as low as 40kHz and up to 10GHz, for both off load and on load conditions.
The N500X generation from ETS-Lindgren includes a reduction in power dissipation versus current rating. The entire range is available with optionally fitted transient suppressors for surge and spike protection.
The filter networks are all RF sealed in high quality electro-tin plated steel cases. The load current should return through the filter to maintain maximum performance.
Applications
High Performance Screened Rooms and Anechoic Chambers; the N500X Series Provides Protection of Both Incoming and Outgoing Supplies in Line with the Shield Performance
TEMPEST Applications; the N500X Filters Provide an Extremely High Degree of Protection Required to Obtain Maximum Security
EMC Applications, such as Computer Suites
General Purpose High performance Filtering
Electrical Specifications
| | | | | |
| --- | --- | --- | --- | --- |
| PART # | Current Max (Amps) | Voltage Max (Volts) | Frequency (Hz) | Number of Lines |
| 5000 | 16 | 250 | DC/50/60/400 | 2 |
| 5001 | 16 | 440/250 | DC/50/60/400 | 4 |
| 5002 | 32 | 250 | DC/50/60/400 | 2 |
| 5003 | 32 | 440/250 | DC/50/60/400 | 4 |
| 5004 | 63 | 250 | DC/50/60/400 | 2 |
| 5005 | 63 | 440/250 | DC/50/60/400 | 4 |
| 5006 | 100 | 250 | DC/50/60/400 | 2 |
| 5007 | 100 | 440/250 | DC/50/60/400 | 4 |
| 5008 | 200 | 250 | DC/50/60/400 | 2 |
| 5009 | 200 | 440/250 | DC/50/60/400 | 4 |